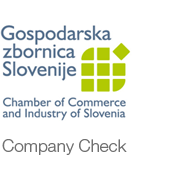 Verificirana spletna stran / Company Verified Page
Verificirana stran spletnega certifikata "GZS Secure Site" vsebuje podrobnejše in preverjene podatke podjetja. S spodnjo formo lahko varno kontaktirate podjetje.
The GZS Secure site Verified Webpage contains detailed company information, which has been verified. You can check the list of validated business partners and also contact the company safely via email by using the safe contact form below.
excellent-sme-si.safesigned.com
M.TRADE Gornja Radgona d.o.o.
Ljutomerska cesta 30C
Slovenia , Gornja Radgona

Podatki Podjetja / Company Information
Ustanovljeno /Established:

Dec. 19, 1996

Odgovorna oseba / Accountable person:

Tomaž Munda

Telefon / Telephone:

E-naslov / E-mail:

munda.tomaz@m-trade.si

Matična št. / Company ID:

5991935

Davčna št. / VAT ID:
certifikat preverjen / certificate verified (SafeSigned)
Komercialne spletne strani / Commercial websites